I have had a bloggy request. And since I'm at a loss for anything to discuss except The Great Living Room Remodel of Twenty Ten, which I'm most certain you are tired of hearing about (because I am), then I am more than happy to oblige. That and because my good good buddy New Every Morning asked me to.

I think I've discussed my childhood in bits and pieces before. But I don't know that I've ever devoted an entire blog post to my jungle-ality.

I'm a jungle girl. Raised where coconut and banana trees stretched tall to the muted gray skies. The rivers and ponds were dirty and infested, and mud and dirt seemed to grow easier than grass. The flowers were more beautiful than anything I have ever seen, and the dark hues of the people's skin were as pure and beautiful as chocolate.

When I was a toddler, my parents began the very long process of preparing themselves and our family for a life of service on the mission field. I have never in my life met anyone with more of a mission-minded heart than my father, and we were about to embark on a journey that would forever change all of our lives. Our family had a few hiccups in the process what with some medical delays and such, but when I was 5 years old we said goodbye to our grandparents and extended family and boarded a plane for Asia to become part of the Foreign Mission Board family (now the International Mission Board, or IMB).

We spent almost 4 years in Bangladesh, a very primitive 3rd world country that juts up next to India.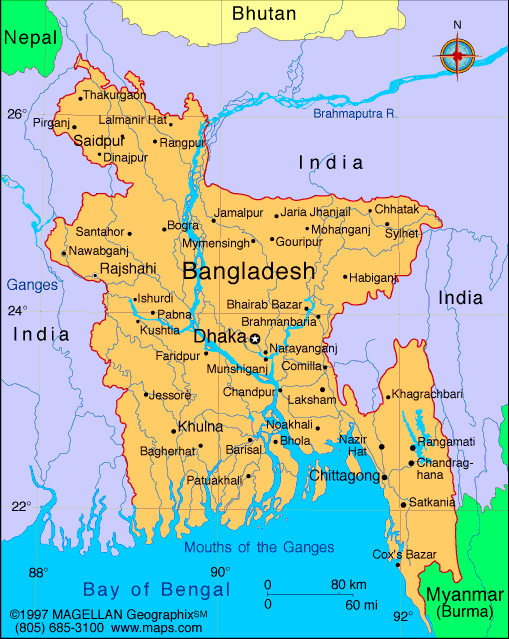 We lived in the capital city of Dhaka for a year while my parents were in language school. My sister and I attended an American School during that time, and our whole family settled into a period of trying to adjust to the tremendous culture shock that comes with moving to the jungle from the land that flows with Walmart and super sized fries. I think everyone would agree that I had the easiest time of any of us. As a small child, I acclimated well. I became fluent in the language, spent endless hours playing with my ayah and the other household servants, and learning to love the food and the environment. That new world was full of things to explore and learn and do, and I soaked it up.

After a year, my parents, equipped with the language well enough to begin their ministry, packed our family up and moved us to village life. We lived in the village of Comilla for our remaining time in Bangladesh (If you look on the map: just southeast of Dhaka). Our home was inside a large gated compound, which provided me the opportunity to spend a lot of time outside playing. Being young, I never noticed the people hanging out of their apartment windows just to catch a glimpse of my white skin and blonde hair. My sister, however, was older and did notice. And she rarely left the house because of it.

Michele and I were homeschooled during that period of time in Comilla, and when she reached 9th grade, she went to boarding school in Thailand leaving me an only child. I spent my days playing in my room and busying myself with my toys and playing with our servants...my only playmates. Our gardener and day guard was a Muslim man named Abdul, and he became my best friend. I know that sounds weird and strange...but it wasn't. He watched out for me and never tired of me "helping" him in the garden (or at least never let on that he did!).

That's me and Abdul shelling peas.

My dad was heavily involved in one of our mission's primary ministries, installing tubewells in villages so that the people would have access to clean drinking water. He also provided a means of income for local village women by giving them embroidery projects. Dad's sewing circle changed the lives of many families in Comilla both financially and spiritually. Dad was also involved in relief work and spent many days out of the week in the villages sharing the Gospel with the Bengali people.

A village woman fetching water from a newly installed tube well.

Jim-Dad teaching his sewing class. If you look on the board, you can see that he was writing in the native language.

What came from the hands of one of the ladies in the circle. Gosh. It's beautiful, isn't it?

My dad overseeing a boat building project as relief work.

Sharing a meal with a gathering of villagers. That's right. Eat with your hands. On the ground. Only way to eat curry! *wink*

When I was 8 years old, my dad answered the Call to transfer our family's ministry to Thailand.

The English speaking church in Bangkok was in need of not only a pastor, but of general help. The church was struggling and needed strong leadership. Our family moved into the parsonage next door to the church, and my dad got right to work. Another bonus was that my sister, who had been in boarding school there, was able to move back in with us.
My sister and I attended the International School of Bangkok, and quickly settled into modernized and Westernized life.
Thailand (or at least the parts that we were in) were so very different from Bangladesh. The hustle and bustle of the Bangkok city were a far cry from the mud huts and dirt roads of village life. We quickly became used to the shopping and the luxuries that come with a booming Asian metropolis. McDonald's. And department stores. And swanky hotels. And enormous buffets of food. Definitely not the onslaught of poverty that had been staring us in the face the previous 4 years.
It's actually very sad how easy it is to become so used to modern conveniences. Regrettably, it didn't take long for my mind to shift gears and focus.
My dad remained the pastor of the church there in Bangkok until I finished up my 8th grade year. My sister had already returned to the States to attend college, and my parents were being faced with the decision about my schooling. The options had turned to boarding school for me or homeschooling, and after much prayer, my family packed up and headed across the big water.
I started 9th grade in an American high school, and my dad became involved in mission ministry here in the States. And we've been here ever since.
Of experiences on the mission field, most siblings tend to share memories and outlooks. My sister and I, however, are very different on our takes as MKs (missionary kids).
She struggled when she was younger. I didn't. I struggled when I was older. She didn't. While she holds our time in Thailand dear, I hold our time in Bangladesh as treasured.
I'm a jungle girl. That time of my life stirred something in me that I feel shaped me to be adventurous and eager to see and try new things. Though I can become grossly entrenched in bouts of materialism, the memories of nothingness and poverty haunt me. The people of Bangladesh still hold a special place in my heart, and I would love one day to revisit. To see it. To minister. To show my husband and my children where I come from.
The old adage is most certainly true.
You can take the girl out of the jungle.
But you can't take the jungle out of the girl.
No matter how many pairs of GAP jeans and Quarter Pounders you buy her. You just can't.