My room was a weird mint green color.

I had bunk beds. And I wore knee socks. And floor length dresses with lace collars. And apparently my mother let me.

I would play dolls and Barbies in that room. And listen to Solid Gold albums, and sing into a hairbrush in my mirror.

And at night, I would be tucked in by either my mama or my daddy. And they would read to me.

I only remember 4 books that were ever read, but I'm positive that there were more. But these 4 have always stuck.

Little Women. A classic. My mama read that one.

And then I can remember Jim-Dad, in his baby blue polyester pants, reading Little Pilgrim's Progress, The Chronicles of Narnia, and Hinds' Feet on High Places.

My dad was a sucker for a good allegory.

And so was I.

Those stories have always walked with me. Their brilliant symbolic messages told in layman's terms. So that even children "get" it.

I would imagine walking the roads on the way to the Celestial City with Christian. Meeting Mr. Tumnus at the lamppost with Lucy. And skipping through the High Places with the Chief Shepherd.

They were all so real. And beautiful.

And then time happened. And growing up happened. And stuff happened. And those books, though still on my shelves, weren't taken out as much. And weeks that turned into months turned into years.

Last week, while we were at my parents' a stack of Hinds' Feet books set in the floor of my dad's office. He quickly reminded me of our times reading those books together many many moons ago. And the beautiful memories of those stories came flooding back.

Jim-Dad gave us a brand new copy last week and this morning, I sat my children down and cracked the binding.

The walls aren't mint green. And no one is wearing knee socks.

But my children are going to hear these wonderful allegories of Jesus' love and our salvation journeys. Not only because of heritage and nostalgia, but because they are beautiful.

-----------------------------

Pilgrim's Progress and the Narnia books are very well known, and if you haven't read them yourself or with your children, please consider doing so. Hinds' Feet on High Places is not as well-known, but it's story is just as breath-taking.

The story follows Much-Afraid as she journeys with her two companions, Sorrow and Suffering, to pass through dangers and to overcome her tormenting past to finally reach the High Places and be in union with the loving Shepherd.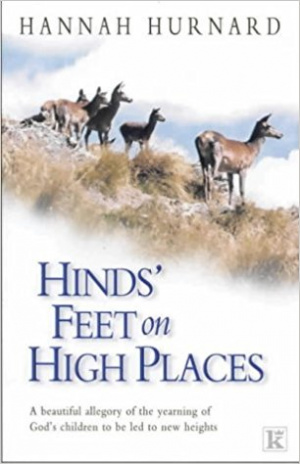 Oh...and just to show you how strongly I feel about this particular book, I'm giving away a copy.
All you have to do is leave me a comment telling me if you've read the book or not (I would love to hear what those of you who have read it think!), and you'll be entered to win. It would make a really great Christmas present, too, if you already have your own copy! I'll pick the winner on Friday around 3 p.m. central time.